Mercedes-Benz Arocs have come up with an array of engines that will meet all your performance needs.
Mercedes-Benz Arocs has large selection of efficient engines closely graded with an output of 238 hp to 625 hp.
1st impression at the wheel of the Mercedes-Benz Arocs 4151 8×8 TRC: much faster and more maneuverable. Turbo retarder clutch (TRC) manages the start: Finely controlled power for the terrain champion.
The new Arocs program comprises wheel configurations from 4×2 and 4×4 to the three-axle vehicles in 6×2, 6×4 to 6×6 the four-axle vehicles are available as 8×2 with trailing
axle as 8×4, 8×4 with trailing axle as 8×6 and 8×8.
The Hydraulic Auxiliary Drive works at a speed of up to 30 km/h and creates the necessary degree of additional traction there is up to 40 kW of additional drive power available per wheel the Mercedes Arocs also has the advanced cruise and transmission control Predictive Powertrain Control thanks to the PPC the Arocs, is now set to see major progress in the reduction of fuel consumption the new generation of PPC uses digital road maps that contain data on topography the geometry of intersections road bends as well as traffic signs.
Thanks to this the Arocs always able to find the right gear and appropriate speed for consumption when travelling up- and downhill the optimised aerodynamics are just one positive feature of MirrorCam the absence of the mirrors has considerably improved all-round visibility the driver has excellent visibility even diagonally in front of the truck.
it is no longer possible for the driver to incorrectly adjust the mirror because from any perspective, the camera shows the same image when manoeuvring or changing lanes the projection of distance lines on the display helps the driver estimate the distance to the vehicles following behind MirrorCam also works with the Mercedes-Benz Sideguard Assist this system can help to avoid accidents on the co-driver's side when the Mercedes-Benz Arocs turns to the right due to it can warn the driver both visually and audibly before a collision occurs.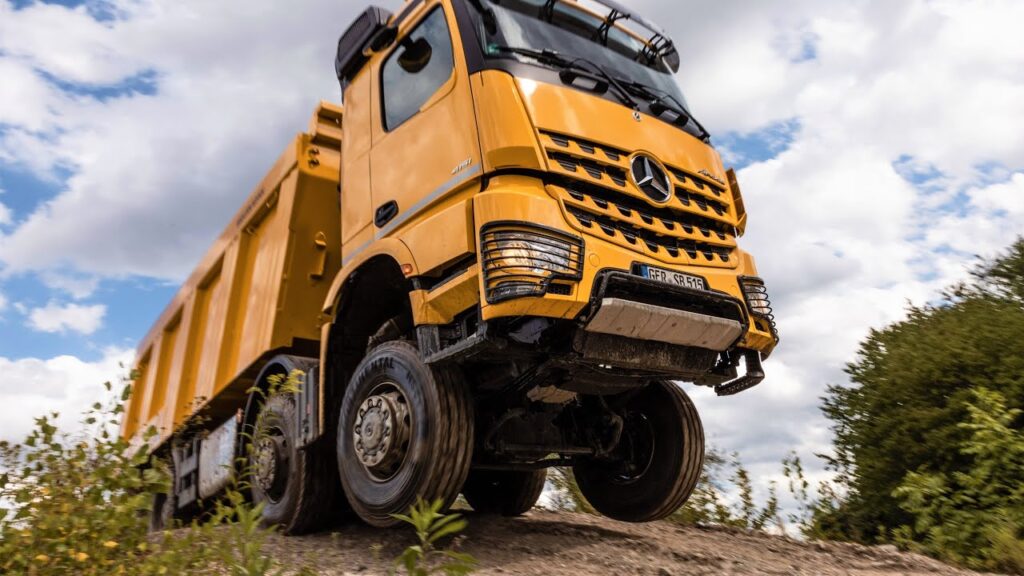 Source: YouTube
Find more exciting 4×4 related articles in our Homepage.