The Nissan 370Zki is The Ideal "Toy" for Winter Enthusiasts
The Nissan 370Zki continues our recent tradition of bringing imaginative winter vehicle concepts to the Chicago Auto Show. With the Nissan Z's long heritage of motorsports competition, the 370Zki seemed like a natural combination.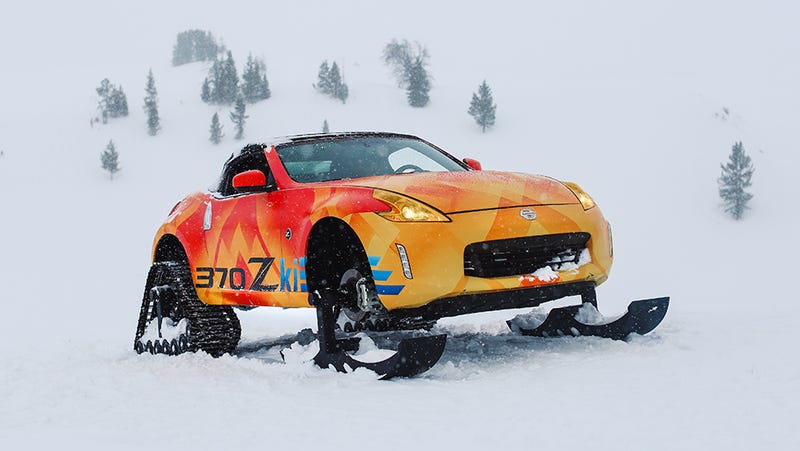 The 370Zki follows a trio of Nissan Winter Warrior vehicles: the Rogue, Pathfinder, and Murano from 2016. Each of those crossovers was outfitted with a set of American Track Truck's rubber tracks, and the 370Zki is no different. However, this time Nissan only added the tracks at the rear, while the front earned a set of skis, as the concept's name implies. The final result looks seamless, but the build of this sports car turned winter-recreation machine wasn't that easy.
Nissan commissioned the Torrance, California, shop The Westside Group to build the 370Zki. The crew there removed the entire drivetrain from a standard 370Z to make room for the rubber tracks at the rear and skis up front, and installed a 3-inch lift kit. The plumbing for the braking system had to be rerouted and the exhaust system modified to ensure everything would fit underneath the car. Up front, more modifications were needed to ensure the set of skis could work properly.
The Westside Group reworked the suspension to accommodate the 3-inch-higher ride height and developed a set of adapters to give the skis proper travel and rotation. Finally, the team installed a front skid plate to protect the vehicle from any damage mid excursion. The result is one wild Z car.
The 370Zki made its maiden voyage on the slopes of Jackson Hole, Wyoming, ahead of its debut, and Nissan documented the fun in the video above. Just don't expect a production version, even though the 370Zki would turn us into avid skiers.
Via MotorAuthority
NISSAN 370Z Bose Subwoofer SUB OEM
Nissan 370Z Sport Rays Wheels
2015 - 2019 Nissan 370z Nismo Wheels
2009 NISSAN 370Z OEM FRONT SEATS BLACK HEATED
09-19 NISSAN 370Z Radiator Support
Steering Wheel Nissan 370Z Sport New Leather Alcantara Nismo
370Z NISMO RECARO OEM SEATS 2009-2019 NISSAN
Fits: Nissan 370Z Coupe 2009+ "Texas Drifter" Custom Rear Spoiler -Painted-
2009 NISSAN 370Z OEM HATCH PRIVACY CARGO COVER
Nissan 370Z Luggage Bags
2009 Nissan 370Z Coupe
2009 NISSAN 370Z OEM TOW HOOK
Nissan 370z Oem Seats Pair
Authentic Nissan 370z Passenger Mat Used 2009 - 2017
NISSAN 370Z NISMO OEM CENTER CONSOLE KNEE PADS SIDE PILLAR
Front Brake Pads Genuine Nissan 370Z 2010 Nismo Sport Package
Fits 09-19 Nissan 370Z Coupe IKON Rear Window Scoop Louver Sun Shade Cover ABS
2009-2019 NISSAN 370Z NISMO OEM COWL
Nissan 370z Front Wheel
2010 Nissan 370Z ECM
Nissan Juke Seats Nismo RS Recaro 370z GTR
2010 manual nissan 370z base oem instrument cluster speedometer ..
Fits:Nissan 370Z Coupe 2009+ "Texas Drifter" Custom Rear Spoiler Primer Finish
2009 Nissan 370Z Nismo Dash Dashboard Panel Black OEM
Fit For 09-20 Nissan 370Z Z34 Fairlady Z Nismo Trunk Spoiler - Unpainted ABS
NISSAN 370Z NISMO 2014 OEM OWNERS MANUAL