The Nissan 370Zki is The Ideal "Toy" for Winter Enthusiasts
The Nissan 370Zki continues our recent tradition of bringing imaginative winter vehicle concepts to the Chicago Auto Show. With the Nissan Z's long heritage of motorsports competition, the 370Zki seemed like a natural combination.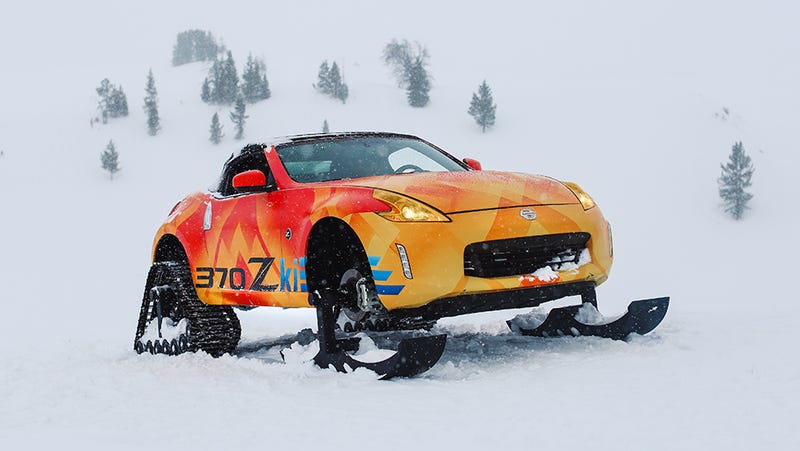 The 370Zki follows a trio of Nissan Winter Warrior vehicles: the Rogue, Pathfinder, and Murano from 2016. Each of those crossovers was outfitted with a set of American Track Truck's rubber tracks, and the 370Zki is no different. However, this time Nissan only added the tracks at the rear, while the front earned a set of skis, as the concept's name implies. The final result looks seamless, but the build of this sports car turned winter-recreation machine wasn't that easy.
Nissan commissioned the Torrance, California, shop The Westside Group to build the 370Zki. The crew there removed the entire drivetrain from a standard 370Z to make room for the rubber tracks at the rear and skis up front, and installed a 3-inch lift kit. The plumbing for the braking system had to be rerouted and the exhaust system modified to ensure everything would fit underneath the car. Up front, more modifications were needed to ensure the set of skis could work properly.
The Westside Group reworked the suspension to accommodate the 3-inch-higher ride height and developed a set of adapters to give the skis proper travel and rotation. Finally, the team installed a front skid plate to protect the vehicle from any damage mid excursion. The result is one wild Z car.
The 370Zki made its maiden voyage on the slopes of Jackson Hole, Wyoming, ahead of its debut, and Nissan documented the fun in the video above. Just don't expect a production version, even though the 370Zki would turn us into avid skiers.
Via MotorAuthority
2017 Nissan 370Z NISMO Tech 2017 Nissan 370Z NISMO Tech Solid Red
2017 Nissan 370Z Sport Touring 2017 Nissan 370Z Roadster Sport Touring
2010 Nissan 370Z sport touring 2010 Nissan 370z Sport Touring Twin Turbo Built Engine 600hp with Ecutek
2010 Nissan 370Z CONVERTIBLE TOURING 2010 Nissan 370Z SEMA SHOW CAR 2017
2013 Nissan 370Z NISMO Nissan 370Z NISMO 2016 Recaro CS Seats Suspension Navigation 9700 miles upgraded
2010 Nissan 370Z Touring 2010 Nissan 370Z Touring with Sport Package - Very Low Miles
2010 Nissan 370Z Touring Roadster 1-Owner Touring Roadster Only 43k Miles Magnetic Black Sport Pkg Navigation Auto
2014 Nissan 370Z Touring 2014 Nissan 370Z Touring Magnetic Black Metallic AVAILABLE NOW!!
2014 Nissan 370Z Sport Touring with Tech Package 2014 nissan 370z touring 3.7l
2013 370Z NISMO NISMO 370Z 6-Speed Manual Custom Stereo Rare Limited Edition Nissan GTR VQ
2016 370Z Nismo Magma Red Nissan 370Z NISMO with 39,845 Miles available now!
2014 370Z TOURING SPORT 2014 NISSAN 370Z TOURING with SPORT PACKAGE 10K MILES 6 SPEED MANUAL
2013 370Z Touring 2013 Nissan 370Z Touring 71797 Miles
2012 Nissan 370Z Touring Coupe Heated Leather Seats Backup Camera Push Start Aux Used 2012 Nissan 370Z Touring RWD Coupe 31Dodge 190381A
2011 370Z -TOURING-2dr COUPE-3.7L-6 SPEED MANUAL-ITS READY F 2011 Nissan 370Z
2009 Nissan 370Z Touring nissan 370z
2017 370Z NISMO NISMO Brilliant Silver 2dr Car Premium Unleaded V-6 3.7 L/226 Manual
2009 2010 2011 2012 2013 2014 2015 2016 2017 NISSAN 370Z RH HID XENON HEADLIGHT
2009 Nissan 370z passenger headlight (damaged)
2009 2010 2011 2012 2013 2014 2015 2016 2017 NISSAN 370Z LH HID XENON HEADLIGHT
OEM Nissan 2017 370z NISMO Muffler
OEM HID Xenon Ballast & Igniter & D2S Bulb for Nissan 350Z 370Z Altima Maxima
09-18 NISSAN 370Z: MORIMOTO XSB Z-DRL Profile Pivot Zoomerang 370
2009-2017 Nissan 370Z Right (Passenger) Head Light OEM
09-11 nissan 370z coupe convertible oem xenon headlight ballast control unit ..
EUC Nissan 370Z Megan Racing Muffler